Automated YouTube video creation for Twitch streamers. That's handy.
Make Echoes is a system that listens for commands issued in your by you, your moderators and approved users to mark clips during your stream.

When you end your stream, Make Echoes automatically creates a compilation video of those clips and then uploads it to your YouTube channel in just minutes.

For busy streamers — that's YouTube content made easy.
Try It Out For 15 Days for $0
Then $29/month!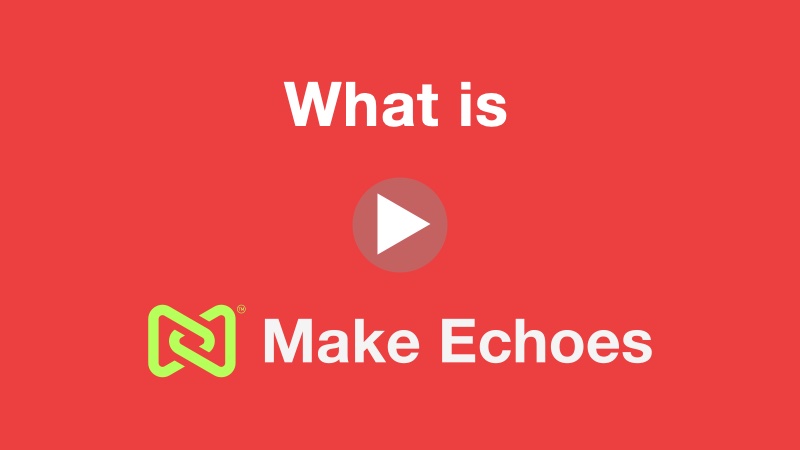 We kept hearing it again and again from streamers,
"I should be creating on YouTube. I just don't have the time."
You already know that creating an engaged audience across multiple social media platforms is one of the key pieces to building a business that will endure the ups and downs of any one social media platform.

We've all seen talented creators choose the wrong platform and then it shuts down, gets acquired or changes in such a way that creating content on the platform no longer serves you.

To create effective content on multiple platforms while your primary audience is on Twitch traditionally meant you had three options:

Using every off-stream moment you have to make more content.
Hiring a video editor or a social media assistant to re-cut your streams for YouTube.
Doing it half-heartedly some days and not at all on others.
How You'll Work With Make Echoes:
After the initial set up of connecting your Twitch and YouTube channels, you simply need to start streaming as you normally would. The @MakeEchoes chatbot will be persistently in your chatroom. Several streamers have added the relevant commands to their Elgato Stream Decks to assist with rapidly getting the clips into the system.
2
Call out clips using !echo commands
When the best of your action happens you, your moderators or approved users (that you can update in your chatroom in real-time) can issue one of the five !echo commands to grab clips of specific lengths: 15, 30, 45, 60 or 90 seconds. The system will confirm via the chat bot that your request has been received directly in your chatroom.
Make Echoes checks on your stream every 3 minutes to see if you're still streaming. If it detects that you've finished up for the stream and you have at least 3 clips for that stream, it begins the automated process of getting the highest quality version of your stream that it can, preparing those clips and creating a stream recap video.
4
Stream recap posted to your YouTube
If you've uploaded a branded lead-in bumper, the system will set that as your first clip. This creates a consistent branded experience before the stream highlight content starts. The same goes for an end card. If we have one that'll be added at the very end so you can have plenty of space to add Cards to direct people to either another video on your channel or a playlist on YouTube.

Once the new video compilation has been completed, Make Echoes uses the OAuth access you've given it to your YouTube channel and posts this new video there. If you've provided a standard video title format or description, it will include those when sending it through. Additionally, you can set up whether or not Make Echoes posts these videos as public, unlisted or private.

After the upload completes, the system will send you an email with links to review the video and a link directly to your YouTube Studio so you can update the Thumbnail, Title, Description and Tags in order to get the maximum value of for posting to YouTube.
See the results for yourself...
@Dot_CR's Twitch stream on August 5th, 2020 and then posted to his YouTube channel. This stream was originally recorded August 5, 2020 and was 6 hours, 38 minutes in length.

The video below was generated and successfully uploaded to his YouTube channel 23 minutes after the stream ended.

Warning: This video does contain profanity but it's pretty damn funny.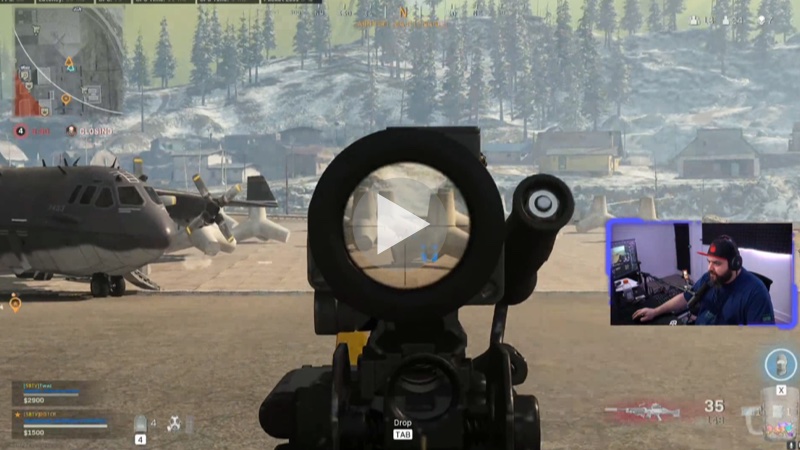 Eliminate the YouTube guilt that you're feeling.
Make Echoes is still an actively in-development Alpha. New features will be rolled out as soon as they are finished being tested.

Due to API restrictions, this Alpha period can support only 100 streamers. Once these spots fill up, a waitlist will be started. As we get more API quota from our partners, we will roll out the product to additional streamers.

If you think this tool can help you, start an account today.
You make content,
we
Try It Out For 15 Days for $0
Then $29/month!
7-Day Refund Policy
While we are trying to be as transparent as we possibly can about the development status of this product and the limited number of customers that we can support and the expectations of performance at this very early stage, a 7-day refund policy will be honored. We hope you don't need to use it but if you do need a refund, please send an email to
[email protected]
and we'll get everything sorted out for you as quickly as we possibly can.
Current Feature List
It works as described
Adjustable clip offset timing to allow for stream latency
Clips can be added in real time from the Twitch Chat by broadcaster and moderators
99.9% Chat bot presence in chatroom
Duplicate clip detection and refusal
Clip removal inside the Make Echoes user interface while stream is happening
Custom default YouTube video titles and descriptions
Compilation videos created after 3 clips are created
Real-time verification that Make Echoes sees your stream as live
Ability to add first clip and last clip to create a better branded experience
Preference for posting to YouTube as Public, Unlisted or Private
Direct download of compilation video for 7 days after stream ends
Timezone setting for appropriate date calculation on YouTube Title date insertion
Features In Development / In Consideration
Email notification for when new videos have been sent to broadcaster's YouTube channel
Approved stream viewer (non-moderators) can add clips
Priority for streamer requested clips above those requested by Mods and Viewers
Last Clip removal via Twitch chat room command
Scaling Twitch feed to allow for Image/Video backgrounds on YouTube videos
If stream is live for more than 120 minutes with no submitted clips send bump message in the chatroom
Turning off clip submission for a given stream
Moderators can be given access to the back end of MakeEchoes to act as clip reviewers/editors
Custom transitions between clips
Inclusion of clips not from stream (affiliate/partner recommendations, sponsored ads, etc.)
Separate chatroom latency offsets for broadcaster, moderator and viewer submitted clips
Broadcaster can set the minimum number of clips required to generate a compilation video to be created
Single Stream/Multiple videos based on either broadcaster input or game being played
Pushing Echo clips individually to broadcaster's S3/Dropbox/Google Drive
Available !echo Commands
Here's the list of available commands using the !echo declaration to add clips to streams.
Full Command
Explaination of Action Taken by Make Echoes
!echo15
15 second clip request.
!echo or !echo30
30 second clip request.
!echo45
45 second clip request.
!echo60
60 second clip request.
!echo90
90 second clip request.
!echolong [number]
This one requires you to include a number after the command. That number is the number of minutes you want the clip to be. Any number less than 10 will work.
!echowhat
A brief explanation of what Make Echoes is and who can use it currently.
!echohello
A command you can send and receive an instant response to ensure that the bot is in your chatroom and actively receiving your room's messages.
!echocommands
A link to the Commands page.
!echolastvid
A link to the last published video by Make Echoes to your channel.
!echoadduser or !echouseradd + twitch username for targeted user
This command will allow a non-moderator to have the ability to use the various !echo commands to submit clips to be included in the stream recap video.
Example: !echoadduser @MakeEchoes
!echoremoveuser or !echouserremove + twitch username for targeted user
This command removes a non-moderator from having the ability to add clips.
Example: !echoremoveuser @MakeEchoes
!echodel or !echoundo
This command removes the last clip if it was entered in the last 5 minutes.
Frequently Asked Questions
Can this work with Facebook Live, Instagram Live, YouTube Live or any other platform currently?
Currently, Make Echoes does not work with any other live streaming platform. Once we are able to sufficiently and reliably serve customers on Twitch and do so at scale we will consider other platforms to support. We are not making promises to integrate any platform on a defined timeline.
Can I edit the clips before they're posted to YouTube?
We have made an active choice not to be an in-browser video editing platform up to this point. Quite frankly, that's such a difficult problem to solve and one where the developers have little expertise that it's unlikely to happen any time soon. What you can do though is use YouTube's incredibly capable in-browser editor to edit the Make Echoes compiled videos in place. This means that you can remove extra seconds on each clip and not lose any views, likes or comments. YouTube produced a great tutorial video that will explain this functionality better than we ever could via text:
YouTube In-Browser Editor
Can't I just hit start and stop and get a clip longer than 90 seconds?
Not yet, no. This is one of those features that had to be set aside in the very beginning because we knew that by focusing on time delimited clip requests it made things simpler for the users of the tool to understand, see the results of and actively create the clips that the tool needs to produce YouTube videos. This is one of our highest priority development additions as it does open up a world of alternative uses that we're excited to explore including supporting Twitch streaming musicians.
I have a restriction on my content appearing on another platform like YouTube for 24 hours. Can you delay sending my videos for a day or two?
Unfortunately, no. This entire system was built to be as responsive as possible and we retain as little data about your streams as is reasonable. Our recommendation to you in these cases after you've set up your account with us is to change your YouTube default publication mode to "Private". This will restrict that video to only your account and will give you the ability to release it after your restriction has expired. While there you may want to update the title, description, tags and thumbnail of the video as well as it's good practice to do so on YouTube.
I missed getting the clip I wanted during the livestream but I did get it on Twitch Clip system. Is it possible for me to go back and add it in?
Again, this was an early choice we made to limit the number of inputs into the system to exactly two in these early stages: the Twitch stream VOD and the timestamps of the request for the clip including its entire data payload. Given this, we can not allow you to add it in on our end. To resolve this you can download the video from either inside your Make Echoes account or directly from your YouTube channel and use a traditional video editor to insert that clip and then re-upload that video to your channel.
What happens after you get 100 new streamers? I still want in!
Wow, thanks for your confidence in our product and thinking we'd reach that level of users. We're going to continue to allow users to sign up for accounts but they won't be able to become active as they won't be able to execute a purchase.

After creating an account, you'll be able to provide your Twitch channel and YouTube account and a brief reason as to why you think this tool is a fit for your work flow. As we get more quota from YouTube and can support more users or users cancel their accounts we'll be letting people in based on both how early they got on the waiting list and the size of their respective Twitch and YouTube channels.

We will communicate any developments to the email addresses on file who happen to be on this waiting list so please give us an email address that is monitored by you. When we have the ability to serve you, we will send an email to your address and your Make Echoes will be able to purchase a seat for the following 72 hours after we send that email.
Is it true that this went from idea to built, tested and released in 47 days?
Yes, that is true. The idea was initially formulated between the co-founders while catching up with one another in a Twitch whisper while watching a streamer (who ended up becoming one of our earliest test streamers) on June 26, 2020.
Within three weeks, the first test streams were using the very primitive version of the product which honestly the videos came out mis-timed, over-compressed and every once in a while not at all. We've worked incredibly hard to get this product to a point where we're proud to share it with the world and see what kind of response we get.
Both co-founders are still involved in other work and therefore this has been a labor of love and lost sleep and likely wouldn't have happened if not for the current state of the world. We hope it helps content producers achieve whatever their goals are: more viewers, deeper connections with your community, bigger affiliate and brand deals, whatever.
The beauty of creating tools for creative people is they're bound to use them in ways that we would never have imagined so go do cool stuff with it and be sure to tweet it at us
@MakeEchoes
.